Kirei - Sushi and Japanese Steak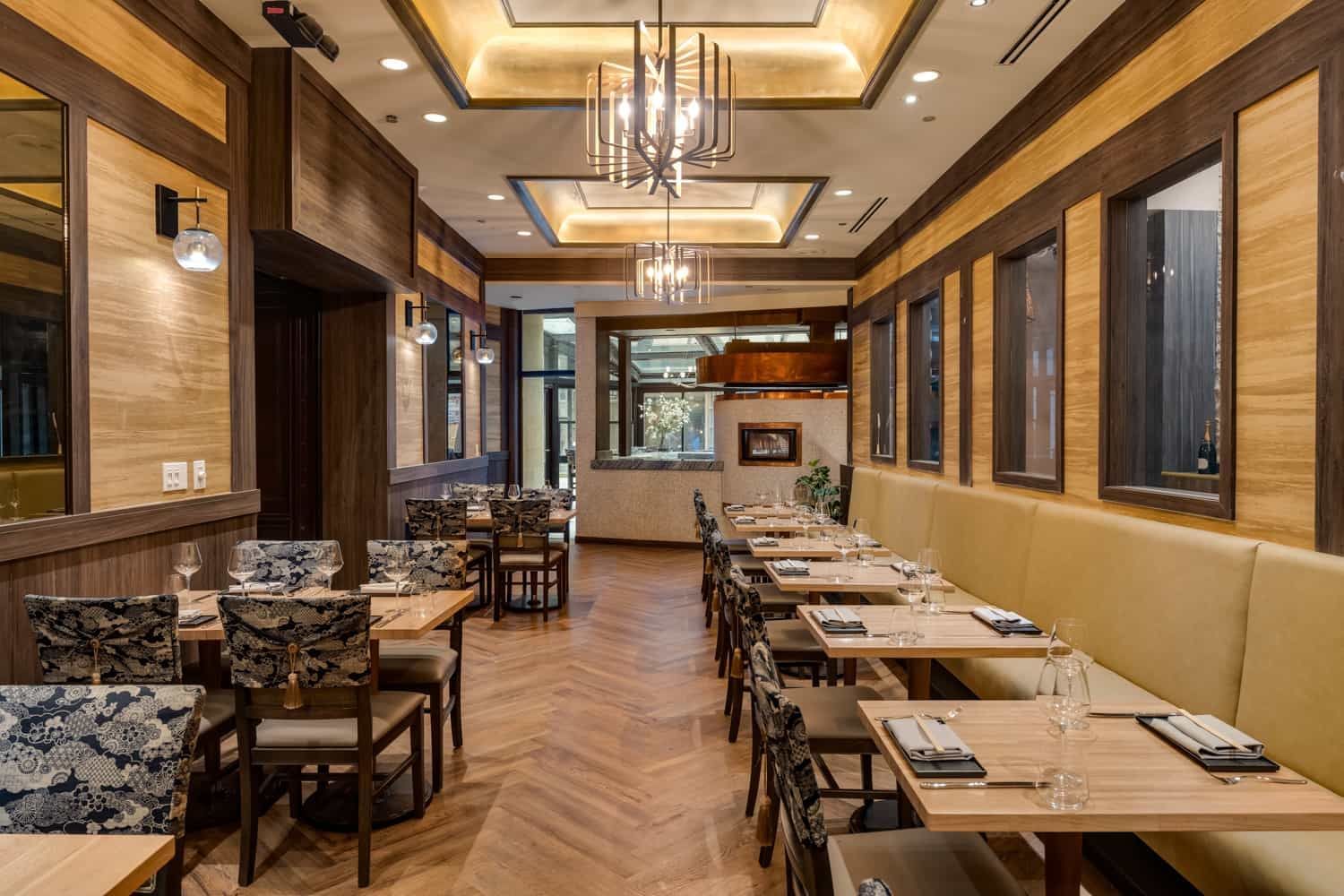 Hours:
Dinner - Everyday 5 - 10pm
Breakfast - Monday - Friday 6:30 - 11am
Saturday & Sunday 7 - 11am
Welcome to Kirei, a Japanese sushi and steak restaurant located in Chicago's Gold Coast. Our menu showcases the artistry of authentic Japanese flavors through meticulously crafted dishes. Whether you choose our prix fixe dinner or à la carte sushi, each bite at Kirei is a testament to our passion for exquisite cuisine.
Kirei was born out of a deep admiration for the elegance and authenticity found in Japanese culinary traditions. We seamlessly merge the worlds of sushi and steak to create a refined dining destination. At Kirei, we are committed to delivering a world-class dining experience. Our prime location in the bustling Gold Coast sets the stage for an evening of sophistication and grace. Our culinary philosophy revolves around showcasing the natural flavors of carefully sourced ingredients, creating harmonious dishes that blend taste and aesthetics. The stylish and contemporary interior design, infused with subtle Japanese influences, provides a tranquil ambiance for your dining pleasure.
In addition to our exceptional food, we offer an extensive drink menu featuring wines and sake carefully chosen to enhance your dining experience. Join us for breakfast, dinner, or enjoy a taste of our limited bar food menu. Our team of experienced chefs and dedicated staff work tirelessly to bring the vision of Kirei to life, ensuring that each visit exceeds your expectations.
Embark on a culinary adventure at Kirei, where elegance meets authenticity. Book your table today and allow us to enchant you with an extraordinary dining experience.
1st Course
EDAMAME, SASHIMI OF THE DAY
2nd Course
THREE KINDS OF NIGIRI, KIREI STYLE
-OR- SUSHI ROLL, KIREI STYLE
3rd Course
SLICES OF PRIME FLAT IRON
-OR- PRIME SIRLOIN STEAK
with your choice of
YUZU PEPPER SAUCE
SPICY SWEET MISO
YUZU BÉARNAISE
NIGIRI
SUSHI ROLLS
STEAK
---
CONTINENTAL      12
Lox & Bagel      14
YOGURT PARFAIT      9
Oatmeal      8
WHITEHALL BREAKFAST      14
JAPANESE BREAKFAST      24
JAPANESE AVOCADO EGG TOAST      12
Omelet      16
EGGS BENEDICT      16
FRITTATA      16
PANCAKES      13
FRENCH TOAST      13
WAFFLES      12
---
EDAMAME GUACAMOLE      12
AVOCADO SALAD      12
PRIME BEEF BURGER      24
SOY MARINATED FRIED CHICKEN      14
TRUFFLE FRIES      12
DUMPLING      10
CHEESE BOARD      24
CHARCUTERIE BOARD      24
STEAK AND FRIES      34
---
LIVING JEWEL    Junmai    12
WANDERING POET    Junmai Gingo    14
RIHAKU "DREAMY CLOUDS"    Nigori    14
BLOSSOM OF PEACE    Umeshu    14
ROAD TO OSAKA    Tokubetsu Junmai Nigori    15
NOBLE ARROW    Tokubetsu Junmai    16
COWBOY YAMAHAI    Junmai Gingo Genshu     20
YUZU SPRITZ    Champagne and Yuzu Lime Seltzer     12
UNFILTERED SPUMANTE    Menti, Italy     12
CAVA    Pares Balta Catalonia, Spain     14
GRUNER VELTLINER    Kamptal ~ Austria     14
BORDEAUX BLANC    Chateau de Cranne ~ France     16
VIN DE DAYS    Day Wines ~ Willamette Valley, Oregon     16
CHARDONNAY-GRENACHE BLANC BLEND    Domaine de Masques "Essentielle Blanc" ~ France     15
ZWEIGELT ROSÉ    Ingrid Groiss ~ Austria    15
"CHIBU" UNFILTERED BLEND    Mouraz ~ Portugal     15
VALPOLICELLA    Garganuda ~ Italy     15
PINOT NOIR    Malat "Furth" ~ Austria     16
BARBAROSSA    Marco Barba ~ Italy     15
INDIGENA ROGUE GARNATXA    Pares Balta ~ Catalonia, Spain    16
LANGUEDOC CABERNET    Garrigue ~ France    14
PEPPERCORN SAISON    Farmhouse Belgium     18
MARZ ROOIBOS    Dark Wheat Ale     9
HITACHINO YUZU    Rice Lager     9
KIRIN ICHIBAN    Pilsner     8
KIRIN LIGHT    Pilsner     8
SUNTORY TOKI     12
FUJI     13
KAIYŌ     16
NIKKA COFFEY GRAIN     20
YUZU L'ORANGE TONIC     10
ELDERFLOWER GREEN TEA PETILLANTE     10
GINGER TWIST     10
ORGANIC HOJICHA     10
ORGANIC BREAKFAST     10