A Storied History: The Whitehall Hotel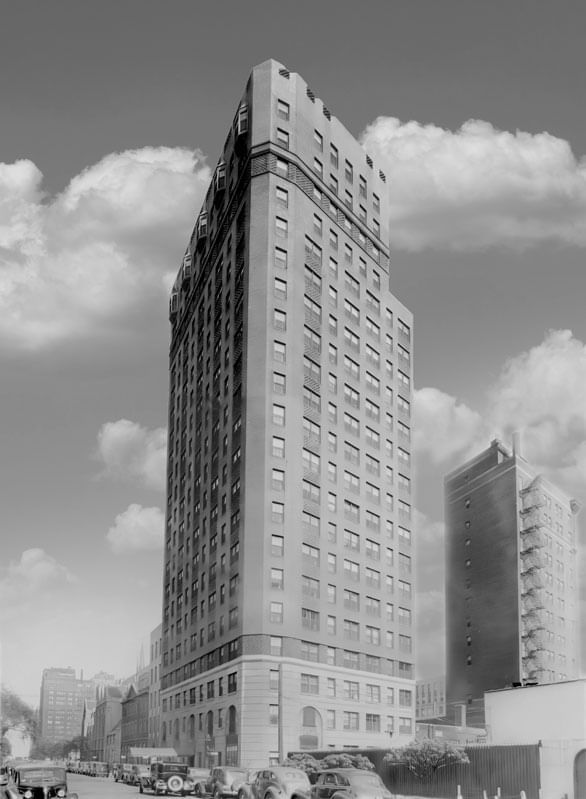 The White City. The Second City. The City of the Big Shoulders. The Hog Butcher for the World. The City That Works. It goes by many vivid names. Chicago grew to prominence as a quintessential American city, full of noise, color, commerce, and creativity. In 1871, the Great Chicago Fire laid waste to the city, but triumph came from tragedy and the new Chicago became an emblem of America to come in the Gilded Age.
In 1937, Sidney and William Keller purchased The Whitehall, a downtown Chicago hotel, transforming it into a premier residential hotel and culinary destination. Over the years, this Chicago hotel evolved, offering luxurious accommodations and fine dining experiences to its distinguished guests.
In 1956, The Whitehall Club opened its doors as an exclusive members-only restaurant, offering the finest in French and Continental cuisine. Its elegant atmosphere boasted crystal chandeliers, red leather chairs, and an antique marble fireplace adorned with fresh flowers.
The Club attracted many notable members and visitors, such as Vincent Price, the "Merchant of the Macabre," who included his favorite Whitehall Club recipes in his acclaimed cookbook series. The founder of McDonald's, Ray Kroc, was also a regular visitor, persistently trying to recruit the club's French chef, Rene Arend, to be McDonald's product development chef.
In 1972, John Coleman acquired the property and transformed The Whitehall Apartment-Hotel into a European-style luxury hotel. The renovation took two years and aimed to create an elegant, intimate space reminiscent of England's finest hotels. When it reopened in 1974 with a gala dinner at which Jack Benny entertained, the Chicago Tribune hailed The Whitehall as "small, select, and unashamedly lavish."
The hotel welcomed an array of celebrated guests, including Arthur Hailey, Katherine Hepburn, Richard Pryor, Barry Manilow, Sophia Loren, and songwriter Rod McKuen. Other notable visitors were The Beatles, The Rolling Stones, and the rising stars of a little movie called Star Wars, Mark Hamill, Harrison Ford, and Carrie Fisher, who stayed at The Whitehall during their 1977 summer press tour.

After a brief closure in 1991, our current owners purchased The Whitehall and embarked on a $25-million, two-year restoration project. The renovation preserved many original features while adding an artistic touch, resulting in a charming and distinctive ambiance. The hotel reopened on November 11, 1994, and during the grand reopening in 1995, March 24th was proclaimed "The Whitehall Hotel Day" in the state of Illinois by Governor Jim Edgar.
Today, The Whitehall Hotel is the downtown Chicago hotel of choice for leaders in business, entertainment, and society. Fortune Magazine named it "one of the eight great small hotels in the United States" thanks to its unmatched service, charm, and intimacy. The 222 rooms, including eight luxurious suites, blend fine furnishings with modern amenities to uphold The Whitehall's international reputation as a great intimate luxury hotel.